Description
Traxxas Bandit XL-5
In first place among 1/10 size, 2WD electric radio controlled Buggy
The Traxxas Bandit XL5 takes RC fun to new levels
with faster speeds, innovative technology, and hobby-grade durability! On- or off-road, the Bandit's low slung chassis keeps the weight down low for sharp handling and blazing speed. The powerful brushed Titan® 12-Turn modified motor and XL-5® ESC deliver fast acceleration and incredible 56+kmh* performance.
Traxxas with XL-5 is an RC car in all weather conditions!
Complete with: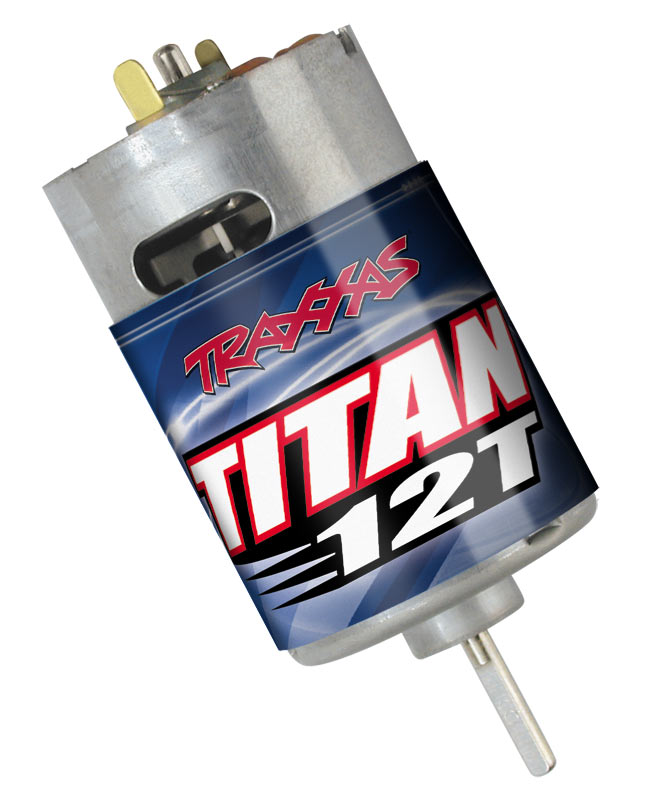 Titan® 12-Turn 550 Modified Motor
The includes a powerful Titan 12T 550 modified motor with internal cooling fan – an industry first for this class of rc car! The Titan's oversized armature (30% larger compared to 540-sized armatures) features 12 turns of pure copper wire for big torque and increased power-handling capabilities. The integrated cooling fan lowers running temperatures for more fun behind the wheel. The Titan 12T requires very little maintenance and provides consistent torque and high speeds run-after-run, without fading. Beyond the specs, the Titan 12T is made for dirt-roosting torque, lightning-quick acceleration, big-air jumps, and just about any other 4-wheel fun that demands real horsepower
XL-5 Waterproof Electronic Speed Control (ESC)
Designed and engineered by Traxxas, the XL-5 Electronic Speed Control handles the elements while smoothly supplying power to the motor. This high-performance ESC packs impressive features that are normally only found on more expensive high-end replacement units. The XL-5 features a completely waterproof design, three throttle profiles, low voltage detection, Thermal Shutdown Protection, 4-7 cell NiMH and 2-cell LiPo compatibility, and built-in BEC. High frequency operation combined with ultra-low resistance make the XL-5 an efficient and ultra-smooth fully proportional speed control. The exclusive and patented Training Mode™ reduces the overall power output of the XL-5 by 50%, making it easier for young or new drivers to develop their control skills before unleashing full-power.
Innovative watersealed design
Three drive profiles

Sport Mode – forward 100%/ brake 100%/ reverse 100%
Race Mode – forward 100%/ brake 100%
Training Mode™ – forward 50%/ brake 50%/ reverse 50% (patented)

12-turn motor limit for 550 size motors
15-turn motor limit for 540 size motors
Integrated on/off switch
Traxxas EZ-Set® one-button setup
LiPo and NiMH compatible with two-stage low-voltage detection
High-efficiency MOSFET transistors
Traxxas High-Current Connector
The patented Traxxas High-Current Connectors funnel maximum power to your vehicle's electronics. Traxxas High-Current Connectors let you get the quickest, safest charge for your battery so you can unleash the maximum power and runtime for your Traxxas vehicle.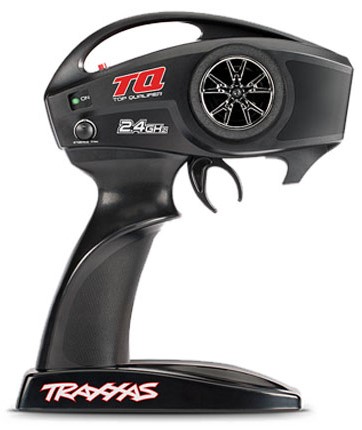 Precision 2.4GHz Control
Switch on the power and drive! That's all there is to it with the TQ™ 2.4GHz radio system. There are no frequencies to manage, so the focus is on having fun. Race multiple vehicles side by side without interference. The TQ's advanced programming provides long-range control with smooth, glitch-free performance. The TQ's ergonomic design is comfortable for all day driving with an internal antenna that is impervious to damage.
3-channel Micro Receiver with Fail-Safe Security
The TQ 2.4GHz micro receiver fits easily into almost any vehicle, and features dual channel-1 steering outputs. The integrated LINK button makes it fast and easy to bind the receiver, and the two-color LED indicates power-on and bind status for fool-proof control and convenience. In the event of signal loss due to an accidental transmitter switch-off or depleted batteries, the receiver will automatically return the throttle to neutral and hold the last commanded steering position. The Fail Safe programming is conveniently built-in and does not need to be set or activated.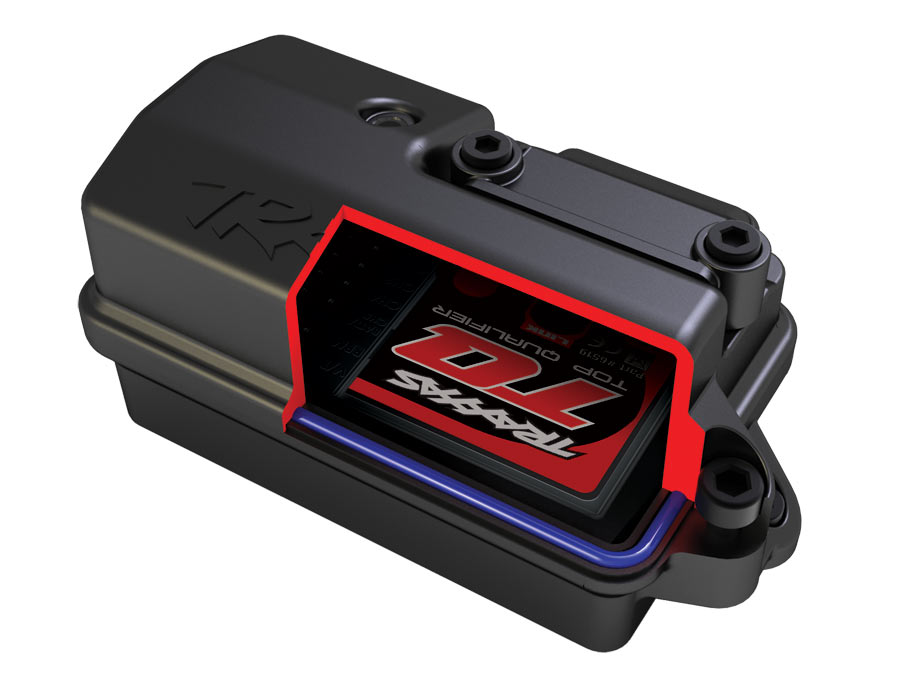 Waterproof Receiver Box
Innovative waterproof receiver box allows easy access to the receiver for maintenance. The unique patented design holds a 3-channel micro receiver that saves weight and provides reliable, long-range R/C performance.
High-Torque Waterproof Steering Servo
A race truck needs a powerful steering servo for responsive performance, and Traxxas delivers with the #2056 high-torque servo. This waterproof steering servo uses O-ring seals to keep the fun going when things get wet. Waterproof for all-weather action, the #2056 provides 80 oz-in of steering muscle. That's twice the power of typical "standard" servos.
Torque-Control™ Slipper Clutch
The Torque-Control slipper clutch uses special semi-metallic friction pads and finned aluminum alloy pressure plates to dissipate heat and provide consistent traction control. The friction material remains stable across a wide temperature range to provide smooth, linear engagement you can count on, run after run. Spur gears remove and replace easily without altering the slipper adjustment.
Oil-Filled Ultra Shocks™
Oil-filled Ultra Shocks utilize X-ring technology for a perfect seal and silky-smooth performance. They are easy to customize with a wide range of high-performance oils, springs, and pistons available. Features include pressure bladders for air/oil separation and spring clips to change precisely the ride height and spring pre-load tension. If their performance ever fades, refresh them in minutes with our inexpensive rebuild kits.
Brushless Ready Magnum 272™ Transmissiona
The Magnum 272 transmission features metal gears riding on ultra-smooth sealed ball bearings. Combined with the smooth 48-pitch gears, power transfers quietly to the durable telescoping U-joint driveshafts. The sealed gearbox protects the transmission components from dirt and rocks. Best of all, the Magnum 272 is built Traxxas Tough™ to handle massive brushless power without the need for costly upgrades
ProGraphix® Bodies
The fully trimmed and painted ProGraphix bodies turn heads everywhere they go with an aggressive look and bold paint designs. Decals come pre-applied to save you time and get you driving just minutes out of the box. Traxxas' ProGraphix bodies are the hottest looking bodies around and are only available on Traxxas Ready-to-Race® models.
BANDIT SPECS

Length: ­ 413 mm
Front Track: ­ 250 mm
Rear Track: ­ 250 mm
Weight: ­ 1.36 kg
Height (overall): ­ 178 mm
Wheelbase: ­ 286 mm
Front Shock Length: ­ Long
Rear Shock Length: ­ XXLong
Front Tires (pre-glued): ­ Alias™ Ribbed 2.2″
Rear Tires (pre-glued): ­ Alias™ Step-Pin 2.2″
Front Wheels: ­ 2.2″ Mirror-Chome (All-Stars™)
Rear Wheels: ­ 2.2″ Mirror-Chome (All-Stars™)
Electronic Speed Control: ­ XL-5™ Electronic Speed Control
Motor (electric): ­ Titan® 12T 550 (12-turn 550)
Steering Servo: ­ #2056 High Torque Waterproof
Transmitter: ­ TQ 2.4GHz Radio
Receiver: ­ #6519 TQ 3-Channel Micro
Gear Ratio (internal): ­ 2.72 (final drive: 10.17)
Differential Type: ­ Planetary
Gear Pitch: ­ 48-Pitch
Transmission: ­ Magnum 272™
Steering: ­ Bellcrank
Chassis Type: ­ Modified Tub
Chassis Material: ­ Composite Nylon
Top-Speed: ­ 55 km / h**
Skill Level: ­ 1
*Battery Tray Dimensions: ­ 166 mm x 47.5 mm x 28 mm
Included Charger: ­ Traxxas 4-amp DC Peak Detecting Fast Charger
Included Batteries: ­ Traxxas Power Cell 3000 mAh, 8.4V, NiMH Battery with iD®
Required Batteries: ­ 4 "AA" (transmitter)